In 1919, Mr. Hossein N. Farahbakhsh opened his own atelier near the main bazaar of Tehran. It was about that time that he got encouraged by a neighbor, who was incidentally in the philatelic trade, to put together a collection of stamps. This move proved to be the start of a lifetime passion.
He married in 1925 and left to live in Recht a year later when his first son H. Farahbaksh was born. There, he purchased a collection of Mirza Kuchik Khan revolutionary stamps which he sold in Tehran a year later with a handsome profit.
As of 1926, Mr. Hossein Novin Farahbakhsh established himself as a tradesman in philately, procuring bulk lots of posted letter covers and selling the used stamps on them. Meanwhile, he continued working with his older brother drawing rug designs.
In 1929, Mr. Farahbakhsh decided to open a shop dedicated to the philatelic hobby; a place where major collectors of the time would frequent and trade stamps with him. He began enthusiastically to encourage the youth into this magnificent hobby too. After moving to another premises, students of the nearby technical college would flock his shop and spend hours with him. Some of the most prominent Iranian philatelists like Mr. E. Josef, J. Sharifian, and Mr. Y. Behboud Chaichi emerged from that period. He also began trading stamps with foreign countries.
It was about 1935, that the first illustrated albums to contain Iranian stamps where produced by Hossein N. Farahbakhsh. Each page of the album had specifically allocated areas where stamps could be mounted using hinge papers. The release of this kind of a stamp album increasingly encouraged the public to collect Iranian stamps in a broad and orderly manner.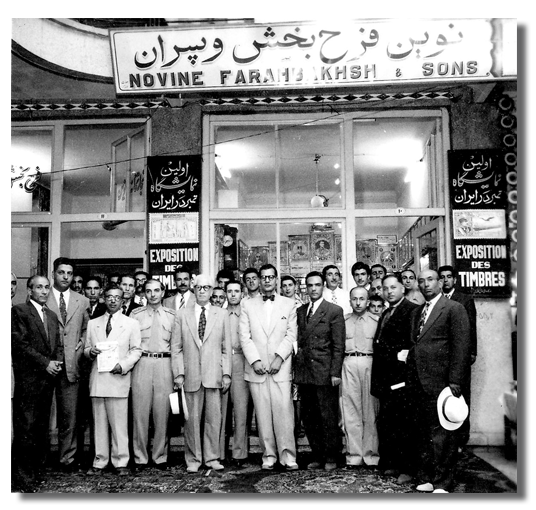 Mr. Farahbakhsh's eldest sons, Houshang and Farhang joined him in expanding their business by opening a new shop in 1944. A few years later, in 1950, Mr. Hossein N. Farahbakhsh celebrated the inauguration of a unique philatelic store where prominent collectors as well as the representative of the prime minister of the time were present. It was about the same period when he initiated Iran's first stamps monthly magazine.